QMotion goes beyond industry standards to reach new heights in innovation. QMotion's shading systems are designed with both form and function in mind.
QMotion is more than just a window solution, is a lifestyle solution. In constant pursuit of true perfection, they strive for a better way of doing things.
Powerfull Systems is your one-stop source for all your interior design and home décor needs, including custom window shades, blinds, shutters, sheers, honeycombs and shutters made of different natural and man-made materials like fabric, wood, bamboo, reeds, grasses, aluminum, faux wood, and vinyl.
Choosing the right window solution can be daunting. Our experienced design professionals will work with you to find a solution that looks great and provides the privacy and light control you need, all within your budget. We are the Window Fashions Experts. Take a look around, and then contact us to get started!
Automated & Manual Honeycombs
The QMotion Honeycomb collection provides a very elegant quiet solution to motorized shading.
Unlike other motorized solutions, there are no exposed wires and battery wands. To access batteries, simply removed the snap on inside cover to replace the D-cell alkaline batteries located inside our headrail. Because all of our honeycomb shades are spring counterbalanced, the motors can move very easily and quietly. With this design, QMotion's cellular shades achieve a two to three times longer battery life than other automated honeycomb shades.
Automated honeycomb shades can be operated by remote control, smart phone or tablet or with QMotion's patented manual override feature.
---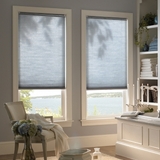 — Automated Honeycombs —
Qadvanced Honeycomb — Qadvanced Automated Honeycomb shades are elegant, color coordinated, available in a wide range of colors, and fully compatible with the controls for Qadvanced Roller Shades.
---

— Manual Honeycombs —
Qfree Honeycomb — Qfree features clutch free manual shades that compliment QMotion exclusive fabric designs. Each Qfree shade is designed with the same quality engineering that you'd expect to find in all QMotion Advanced Shading Systems products.
---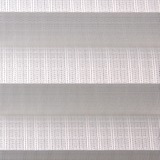 — Honeycomb Fabrics —
Sheer — Enjoy light management and color with our most "see-thru" fabrics. Sheer honeycomb fabrics offer limited privacy, but decorate and allow natural lighting to assist in an energy efficient design. These sheer shades add elegance to any view.
---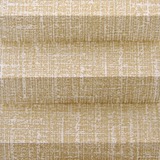 Transparent — Add privacy, insulation, and color to your window with Semi-transparent honeycomb fabrics. These fabrics, which include printed styles as well as attractive solid colors, allow some light to pass through, but offer increased privacy.
---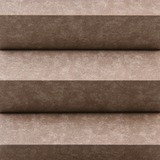 Room Darkening — Honeycomb room darkening fabrics will block all the light at the shade. Some light may pass around the sides of the shades, but these materials offer the greatest light blocking capabilities available in window fashions.
Automated & Manual Roller Shades
Have you been looking for a solution that isn't available yet? Introducing the World's Narrowest Battery Operated Shades. The smallest roller shade of its kind has arrived.
QMotion's automated roller shades offer state-of-the-art natural light control with a unique selection of elegant fabrics. Our Qadvanced roller shade provides unmatched quietness is virtually soundless when in operation. QMotion's unparalleled simplicity incorporates low voltage power, or standard D-cell batteries. Batteries are easy to replace, during those rare times they need it. The Qadvanced Roller Shade Collection is developed with award winning technology that extends battery life – up to 5 years or more.
---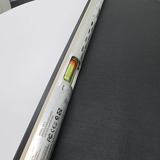 — Automated Roller Shades —
Qadvanced Roller — Introducing the World's Narrowest Battery Operated Shades. The smallest roller shade of its kind has arrived.
The new design of Qadvanced QMotion Adavanced Shading Systems delivers a more simple and sophisticated automated shade that offers both ease of use and dependability. Choose from shades in a wide range of colors and styles, with a bevy of options. All automated roller shades can be controlled via remote, smart phone or tablet, or with our exclusive manual override feature.
---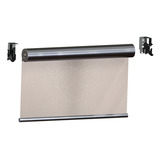 — Manual Roller Shades —
Qfree Manual Roller — Qfree features clutch free manual shades that compliment QMotion exclusive fabric designs. Each Qfree shade is designed with the same quality engineering that you'd expect to find in all QMotion Advanced Shading Systems products.
---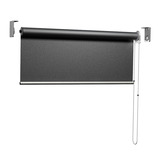 Qbasic Manual Roller — Qbasic sets a new standard for manual shades, and is anything but your basic clutch type manual shade. Qbasic shades offer a quality that can be seen and felt at a desirably affordable price point.
---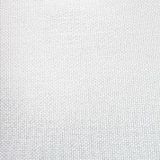 — Roller Shade Fabrics —
E Screen Fabric — Qmotions's E Screen quality fabrics are available with 1%, 3%, 5% and 10% transparency.
---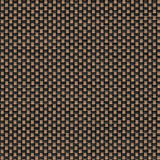 E-Screen with KOOLBLACK™ — The KOOLBLACK™ family fabrics are available with either 3% and/or 5% transparency.
---
M Screen Fabric — Qmotion's M Screen fabric is available with 5% transparency/openness factor only.
---
SheerWeave Fabrics — Our SheerWeave fabrics are available in nine fabulous different styles with 1%, 3% and 5% transparency.
---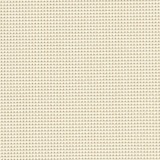 Infiniti Fabrics — Our Infinity fabrics are available with 3% and 5% transparency/openness factor.
---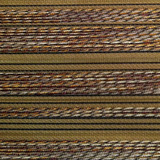 Decorative Fabrics — Qmotion's decorative fabrics include; Vizela, Linen, Chantilly, Eternity, Metallic, Tones, Fiji, Bali, Cirrus Nature, Columns, Oasis, and Island fabrics.
---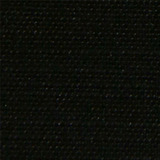 Blackout Fabrics — Qmotion's blackout fabrics include; Matte, Avila Twilight, Flocké, and Edessa Twilight fabrics.
Motorized Drapery Rods
QMotion's Motorized Drapery Rod collection is the latest innovation in automated window treatments. The first and only track-less motorized drapery rod in the market has arrived. The real beauty of QMotion's innovative new product is what you don't notice. We've removed the external motors and wires and placed a battery operated motor inside the hardware itself.
Imagination, determination, and inspiration sparked the groundbreaking technology of QMotion's drapery rod system with Touch Wand Activation. The Touch Wand Activation feature provides customers with the convenience of manual and remote control. The Motorized Drapery Rod collection offers six beautifully crafted finial options and six popular finishes. Add your own draperies for a truly custom design experience.
---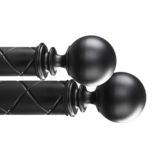 Drapery Rods — Our state-of-the-art technology utilizes special helix grooves etched into the wireless drapery rod itself, with specially designed driver rings to activate movement of the draperies attached to the rings, for smooth opening and closing of draperies.
---
Finials — QMotion Motorized Drapery Rods come in six popular finishes with finials available in six designer styles. Each finial is beautifully crafted to complement any decor. For drapery hardware customization, mix and match finials to create a unique wireless drapery rod system, or add your own finial design. Paired with your own custom draperies, the combination of this truly unique rod design will add simple elegance and beauty to any room.
---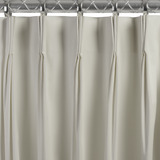 Pleat Options — QMotion's exquistely designed motorized drapery rod system is compatible with the following pleat options; Three Finger Pinch Pleat, Two Finger Pinch Pleat, Goblet Pleat and Tailored Pleat. The System is not compatible with; Grommet, Rod Pocket and Ripple Fold.
---
Hardware Accessories — QMotion offers an elegant assortment of rings, brackets and center supports which beautifully complement all of our wireless drapery hardware.
---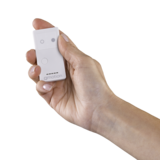 Remote Control — Our slim, lightweight drapery remote is simple to use and is designed to give you the highest level of performance and style. QMotion Motorized Drapery rods offer programmable remote controls to manage light in a home or commercial space. Draw back curtains to pre-set specifications with the click of a button. The rod is activated via remote control or by manual override feature.
---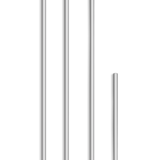 Touch Wand — QMotion is the only automated window treatment company in the market offering a manual override feature by the touch of the wand, allowing our products to be conveniently operated by hand or remote – an indsutry exclusive. Our drapery rods have the capability to be manually controlled with the integrated "Touch Wand Activation." Simply tap the wand to the rod to start the automated movement. The Touch Wand Activation feature can be enabled or disabled from the remote.
Product Controls
QMotion's Qadvanced Automated Shades may be operated with a wide variety of controls, relays, and timers. However, QMotion also offers the flexibility of manual operation. A short tug to the bottom bar of the shade activates the motor, causing the shade to glide to a fully open or preprogrammed intermediate position. Want more privacy? Simply pull the shade downward to your desired position.
---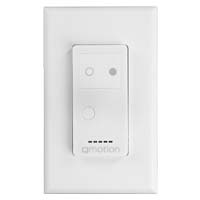 Remote Control & Hembar Activator — QMotion's Shades may be operated with a user-friendly, wireless remote control, which may be stored conveniently in a wall plate. However, a short tug to the bottom bar of the shade activates the motor, causing the shade to glide to a fully open or pre-programmed intermediate position.
---
Multichannel — Enjoy simple solo control of all your shades in the palm of your hand. That's what the QMotion Multichannel Remote provides. Seven channels give you control over six individual shades, six groups of shades, or all of them together, with one remote control.
---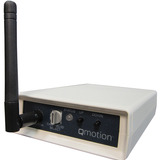 Qconnect — Thanks to an intelligent interface that can communicate with most building and home control systems, QMotion Qconnect allows you to sync your shades with your home automation systems.
---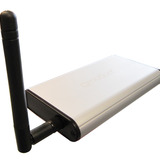 Qsync — Our smartphones and tablets are increasingly important in our daily lives. QMotion shades are as convenient to control as your phones. With the addition of Qsync technology, QMotion shades move up and down easier than sending a text message. Qsync works with the QMotion app available in your app store today. It transforms a smartphone or tablet into the most elegant and functional transmitter for QMotion products.
---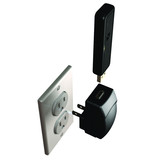 Qrelay — With Qrelay, you can be assured that your control is complete, even in areas or sites where reception may not be the best. Just add Qrelay to ensure that a signal reaches your QMotion shades, wherever they are located.
---
Timer Remote — With a QMotion Timer Remote, shades have never been so simple, or so smart. Thanks to easy programming, just enter your zip code to automatically load sunrise and sunset times. Or if you have specific needs, you can choose a more detailed schedule to perfectly match your lifestyle. After all, the single-channel, five button QMotion Timer Remote offers something for everyone.
---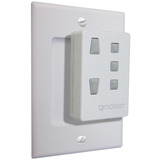 5 Button Single Channel Remote — Simple single group transmitter with LED feedback and magnetic back for wall storage. This basic transmitter is built to make QMotion use simple, and offers three intermediate positions in addition to Up and Down.