Automated Window Coverings
Window coverings are an essential part of any home or office, and they usually play a key role in reflecting our personal taste and lifestyle, yet they are more than merely a fashion statement. Window coverings offer privacy and light control and can help us save money and energy by preventing heat from coming in during the summer and escape during the winter. Shades, blinds and drapes also aid us in managing daylight to protect our floors, art and furniture from the damaging UV solar rays.
A well-engineered window shade system consists of controllable window treatments with the proper fabric to regulate the intensity and attenuate daylight penetration into your home. As we become more conscious of our footprint on this planet, we realize that making the most of daylight in our homes simply makes sense. Utilizing daylight reduces our need for electric light and saves energy.
Our Window Coverings Manager has more than 30 years of experience and he can personally help you in selecting the most beautiful and the most functional window treatments to complement your current décor and to provide precision control of daylight. Let Powerfull Systems professional team show you how to utilize your interior or exterior window shading system to save additional energy beyond routine use of window shades – all at the touch of a button.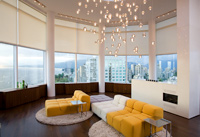 Roller Shades
Lutron roller shades create the perfect light for any space or activity with an offering of sheer, dim-out, and blackout fabrics. Choose a sheer to maintain view while diffusing UV rays that may damage furnishings. Dim-out fabrics provide privacy while blackout fabrics are 100% opaque to eliminate all daylight.
Horizontal Sheer Blinds
Beautiful fabric meets industry-leading technology in these window treatments, where the soft elegance of a sheer is paired with the precise control of a blind.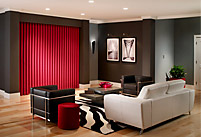 Drapery Systems
Lutron drapery track systems electronically operate a variety of styles, including pinch pleat and ripplefold, in addition to the innovative Kirbé® Vertical Drapery System. Select a fabric from The Avant Collection™ for complete systems.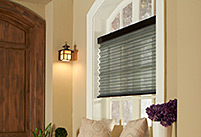 Pleated Shades
The angular design of pleated shades adds a crisp, modern look to any space, and the wide array of colors and fabric options ensure a signature look.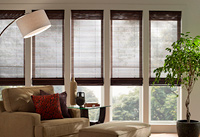 Roman Shades with CERUS® Safety Technology
Roman shades lend an air of sophistication to any space while managing daylight. With over 100 fabrics and woven woods available in a variety of pleat styles, you are sure to find the perfect aesthetic match. CERUS (Cord-Eliminating Roman Uptake System) provides a safer, more reliable and better performing Roman shade.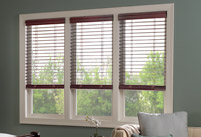 Venetian Blinds with Independent Control of Lift and Tilt
Venetian blinds are an attractive and effective way to ensure privacy while still allowing daylight to filter into a space. Independent Control of Lift and Tilt maintains uniform tilt and lift positions across blinds and combines smooth, quiet motion with independent control of lift and tilt. Lutron Venetian blinds feature presets to recall a predetermined position and tilt for the ultimate in performance and style.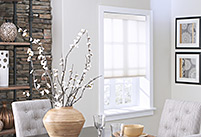 Fashion Honeycomb Shades
Fashion honeycomb shades add dimension to a space thanks to their cellular design, and their air pockets trap heat to provide superior insulation.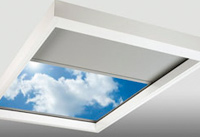 Tensioned Shades
Tensioned shades provide solutions for skylights, bottom-up, and angled windows. The innovative design keeps fabric panels taut and parallel to windows with minimal sag at a variety of slopes. Lutron tensioned shades reduce light gaps around fabric, and maximize the view when opened by eliminating cable guides that are typical in skylight shades. The frame may be surface mounted, inside mounted, or recessed while still allowing easy access to update the fabric.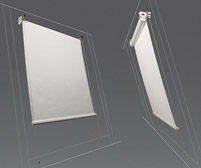 Cable Guided Shades
Cable guided shade systems can be used to achieve precise shading control in angled applications by keeping roller shades at the exact angle of the window. The system is also useful in areas of high velocity airflow to prevent unwanted shade motion.
Rolling Shutters
Rolling shutters provide piece of mind and and will enhance your lifestyle.
Retractable Awnings
Enhance your outdoor living space with retractable awnings.
Solar Screens
An exterior solar screen will provide shade from direct sunlight while allowing you to save on energy costs.
Lutron® Shading Solutions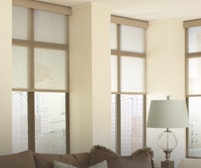 Serena®
Serena remote-controlled shades offer the beauty, luxury, and quality of a Lutron motorized shade at a more affordable price. Available in insulating honeycomb and roller styles, Serena shades offer a wide variety of fabric colors and textures, for complete design customization. These ultra-quiet window coverings install and operate without wires, and feature industry-leading battery performance. At the touch of a button, shades operate in perfect unison, and can even be controlled from anywhere in the world using the Lutron App and Smart Bridge.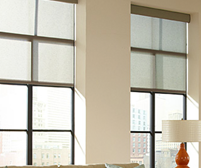 Sivoia® QS Triathlon
Sivoia QS Triathlon is the most fashionable, flexible and affordable motorized shading system available today. This battery-powered solution offers industry-leading battery life for easy installation and maintenance, perfect for retrofit applications. Available in new roller shade or insulating honeycomb styles, these shades have a wide variety of beautiful fabric colors and textures to meet the functional and aesthetic needs of any space. Able to work as a standalone or system solution, these shades can be controlled at the touch of a button.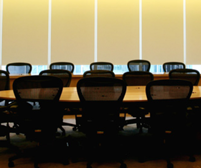 Sivoia® QS
Sivoia QS is the next generation of shading technology from Lutron, and the ideal solution for total light control. Sivoia QS can control the entire Lutron family of automated window treatments, including roller shades, traditional drapery tracks, the Kirbé® vertical drapery system, tensioned shades, Roman shades, horizontal sheer blinds, pleated shades, and fashion honeycomb shades. Its simplified wiring and common communication language allow for easy integration with Lutron lighting controls, including GRAFIK Eye® QS and Quantum® systems.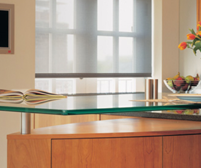 Sivoia® QS Wireless
The innovative Sivoia QS Wireless shading system is beautiful, scalable, and reliable. This system can be used to control the entire family of Lutron automated window treatments, including roller shades, Venetian blinds, traditional drapery tracks, Kirbé® Vertical Drapery System, tensioned shades, horizontal sheer blinds, pleated shades, fashion honeycomb shades and Roman shades. This wireless shading system is a perfect solution for retrofit and renovation due to the elimination of communication wiring between components.
Sivoia QS Wireless offers precision control of shades in one room, multiple rooms, or an entire home or building all at the touch of a button. Using the proprietary Clear Connect™ RF Technology from Lutron, Sivoia QS Wireless directly integrates with Lutron lighting control systems, delivering total light control to any space.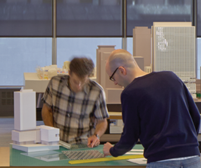 Contract Roller Shades
Lutron's new Contract Roller is a comprehensive, commercial grade roller shade line designed to meet the performance and budget requirements of any commercial application.
• Over 300 high performance and sustainable fabrics
• A complete roller shade line for commercial applications
• Integrates the appropriate shade and lighting control for every space in the building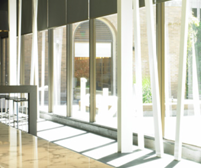 Hyperion Solar-Adaptive Shading
Hyperion solar-adaptive shading software automatically adjusts Lutron Sivoia® QS shades throughout the day in response to the changing position of the sun, saving energy, and reducing glare and heat gain. To allow direct sunlight to penetrate deeper into the workspace, customized shade schedules are developed by combining information about building location and façade orientation.
There are many choices available to you. We are here to assist in fine-tuning the right system for your specific need. Tell us about you and your planned project. We'll respond promptly to arrange a meeting, where we can discuss your needs in more detail.
Need help figuring out what services of ours will benefit your home or business? Have a question about our services? Contact us now to find out everything you need to know!