Light is an absolutely necessary element for human beings. Light does more than just allow us to see, light has the potential to influence the way we feel, think, and act. Light can also affect our mood, our health, and our productivity; therefore, when illuminating your environment and surroundings, a quality light control system deserves your attention. Light control is more than switching on and off electric lights. Light control is the ability to fine-tune and regulate the level and quality of light in a given space for specific tasks or situations.  There are infinite variations of light scenes and settings to set a mood and to add highlight or low light to any part of your home. Controlling light properly not only enhances the experience; it helps to save energy by using light when and where it is needed most. Lighting control is an essential feature of every home and savvy business and is a vital part of any energy-savings plan. Since our inception in 1998, Powerfull Systems has been providing a wide range of intelligent energy-saving light control solutions. From a single room to a multi-thousand square foot luxury space our lighting systems will fit your design and provide the ability to make changes and modifications as needed. Our energy- saving Lighting Systems are designed to provide a comfortable and productive visual environment, make your home or office space vibrant and improve your quality of life. Whether you want to start small and add on later; Powerfull Systems can enhance the finest features of any room with a customized Lutron® or Vantage® lighting system. We can also offer you the convenience of controlling your home or business lighting system from anywhere with an iPad, iPhone and other mobile devices. Powerfull Systems installs among others; the following Lutron® and Vantage® Lighting Systems in homes, commercial buildings, new constructions and luxury yachts: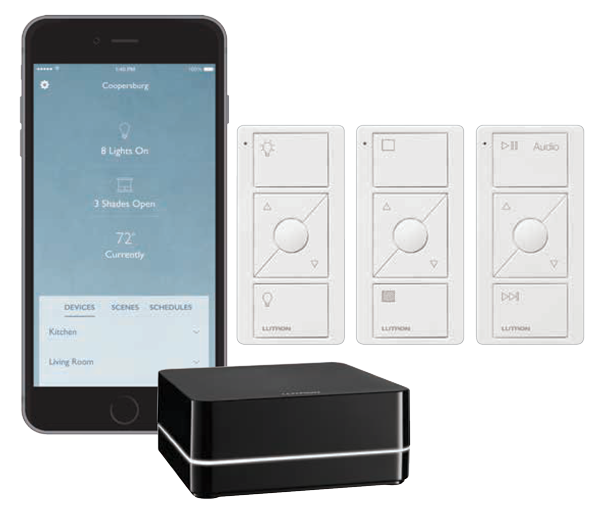 Lutron RA2 Select
Lutron's
RA2 Select
wireless controls system – introduced at CEDIA 2017 – provides smart lighting and shade control for any home at any budget. Enjoy added convenience, comfort, peace of mind, and stay in control of your home from anywhere in the world. The RA2 Select repeater lets you control lights and shades using the free Lutron App on your smartphone or tablet. The main repeater supports up to 100 devices. For more information on RA2 Select, visit our
Article and Brochure download page
.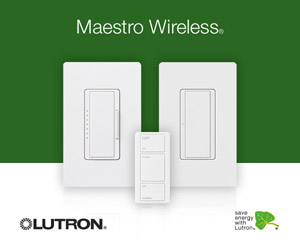 Maestro Wireless® Maestro Wireless® technology offers impressive lighting control functionality and convenience that will fit almost any commercial or residential application. The Pico™ Wireless control and Radio Power Saver™ sensors give the system even greater flexibility, plus the added benefit of improved energy savings. The system is incredibly easy to install and operate, allowing you to control lighting levels with any combination of up to 10 dimmers, switches, sensors and wireless controls — all with the touch of a button.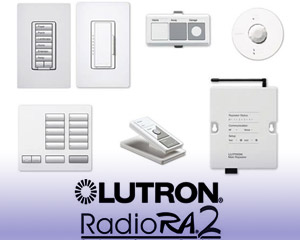 RadioRA 2® RadioRA 2® is a wireless light control system that provides convenient and intuitive control of lights, shades, audio-visual devices, and temperature in a single room or throughout a whole home. It installs easily, programs quickly, and operates reliably thanks to Clear Connect™ RF Technology.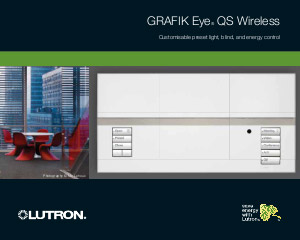 GRAFIK Eye QS® For an easy and efficient way to control both electric light and daylight, look to GRAFIK Eye QS®. Fully customizable, GRAFIK Eye QS adjusts lights and shades for any task or activity at the touch of a button. You'll save energy while meeting the aesthetic, functional, and regulatory needs of any project or space.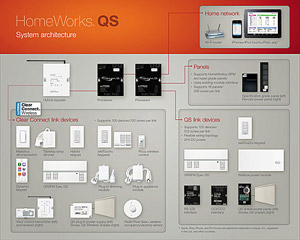 HomeWorks QS® HomeWorks QS® integrates the control of all your light, interior and exterior, electric light and daylight. The system also integrates with other manufacturers for audio-visual and HVAC control, as well, for broader control of your home environment.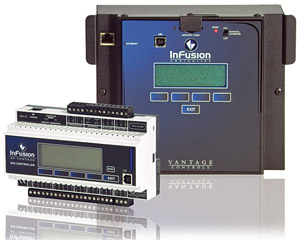 InFusion® Vantage® has developed its InFusion® control and automation platform around lighting control as the core; coupled with a multi-system native solution delivering the ability to integrate best-of-category products from different manufacturers. *Information provided by Lutron® & Vantage® respectively.