Can my Smart Home System do that?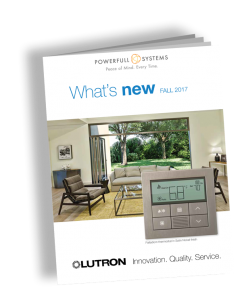 Home Automation isn't what it used to be. Up until 2014, most home automation was mainly about being able to wirelessly control your lights and shades.  Today, we're in an altogether different era of home automation. The commercials make it all look so easy.  The smartly dressed man sits down on his couch and says "Hey Alexa, dim my living room lights." All of a sudden his lighting has dimmed, and he's turning on his TV with his feet up—without ever having to get up to play with a keypad, dimmer or remote.  It seems so simple.  You have home automation, but can your system do that?  Or, after watching said commercial, you wonder how it all works, and what you need to make it happen.  Here's what you need to know about the new generation of smart home technology.
Apple HomeKit — 
Runs on iOS 10 or later, can easily and securely control all your HomeKit Accessories (such as Lutron Caseta Wireless). You can ask Siri to turn off the lights, or see who's at the front door. There are over 50 integrators that work with HomeKit.
Amazon Echo — 
A hands free speaker you can control with your voice. Alexa can handle a variety of commands for anything from ordering more cereal on Amazon, to lowering your bedroom shades.
Google Assistant — 
A virtual personal assistant that can engage in two-way conversations to trigger apps and devices for anything from lighting scenes to playing music.
Samsung Smartthings — 
A hub that wirelessly connects hundreds of compatible devices including lighting, speakers, locks, thermostats, sensors and more, allowing them to all work together.
Nest Learning Thermostats — 
A smart thermostat that learns your home's habits for day and night time, and can even connect to your alarm to switch to an away mode when the alarm has been activated.
Josh.AI — 
New luxury home automation system with wireless voice control for table mount or wall mount hub. Controls lighting, shades, A/V, etc. Now that you have a better understanding of some of the technology out there, how do you use it?
Lutron Caseta Wireless:
This is the entry level home automation system that works seamlessly with almost any 3rd party accessory you want—for a home 2,500 square feet or less. This limitation is mainly because the system has a 30ft. radius, and is capped at 50 devices. Caseta can include smart home ready dimmers, shades, fans, home audio, and thermostats.  There are a variety of accessories that play nicely with Caseta: Apple HomeKit (Siri), Amazon Echo (Alexa), Google Assistant, Samsung Smart Things, Nest, and Sonos are the most common.  Caseta is the perfect starter home system because it is buildable.  You don't have to wire a whole home at once.  It's a wireless system that can be added to at any time, without the pressure of buying several hundred dollars all at one time.
Lutron RadioRA 2:
RadioRA 2 has all of the features of Caseta- on a grander scale.  There is no longer a limitation of square footage or number of devices.  Unlike Caseta, RadioRA 2 is a home system that although it can also be completely wireless, tends to be installed as a whole home system all at once instead of small items at a time as with Caseta.  With RadioRA 2, all of the same 3rd party systems are available: Apple HomeKit (Siri), Amazon Echo (Alexa), Google Assistant, Samsung Smart Things, Nest, and Sonos.
Lutron HomeWorks QS:
HomeWorks QS is the luxury home automation system with even more options than Caseta and RadioRa 2.  Some of the most popular differences are the designer keypads, and thermostat options such as Palladiom.  HomeWorks QS also has more automated shade options than Caseta and RadioRa 2.  HomeWorks QS will work with all of the same 3rd party systems such as: Apple HomeKit (Siri), Amazon Echo (Alexa), Google Assistant, Samsung Smart Things, Nest, and Sonos—with the added addition of Josh.AI.  Josh.AI is the sleek new luxury home system that can completely run your life from when you first wake up, until you ask Josh to turn your lights off and close your shades to go to sleep. If your system was installed before 2015, it's possible that you may be experiencing some compatibility issues with appliances, intermittent power outages, or it might not even be connected to the internet. If you're still using HomeWorks Interactive, HomeWorks Illumination, or RadioRa Classic, you'll need to upgrade to be able to enjoy the latest in internet-based home automation.  The most recent version of Homeworks and RadioRA strives to make your convenience the number one priority.  With the new HomeworksQS and RadioRA 2, you can control your entire system with voice activation, or right from your fingertips- anywhere in the world with the HomeworksQS app, and HomeControl+ app.  This allows you to control anything from anywhere.  Leave a light on at home?  Want your house cool when you get home? Need to let a repair man in while you're at work? HomeworksQS and RadioRA 2 can handle it. Some other products and services that work with Lutron home systems are:
Sonos — 
State of the art wireless speakers
IFTTT (If This Then That) — 
Create "recipes" such as lowering your shades if it's sunny, or turning off lights if the Nest Learning Thermostat is set to Away Mode.
XFinity Home — 
Control your lights from anywhere using the free XFINITY Home app.
Logitech Harmony Hub — 
Dim lights, lower shades, and start a movie with one button press on Logitech Harmony hub-based remote controls or the Harmony app.
Alarm.com 
or 
ELK Products — 
Automatically turn off lights and close shades when arming the security system before leaving for the day, or if the alarm is tripped, the lights come on, and shades go up to draw attention to the situation.
ELAN Home systems — 
ELAN enhances Caséta controlled shades, enabling you to add up to 50 'Phantom Buttons' that can be set to control shades or even recall specific presets.
iRule — 
An app that runs on iOS and Android devices and controls audio/video, lights, shades, and more.
Simple Control (formerly Roomie) — 
a home control app that supports everything from Roku and Apple TV to Philips Hue and Nest Thermostats… and of course, Lutron.
LAUNCHPORT — 
Simplified home control with hard buttons on an iPad
RTI — 
A series of products for home automation such as remote controls and touch pads.
GE telligent — 
Instant wireless dimming with a GE LED bulb that is embedded with Lutron's ClearConnect Wireless technology and controlled by a Lutron Pico wireless remote.
Savant — 
Luxury fully customizable home automation system for everything from A/V, lighting, thermostats, door locks, etc. The innovative efforts of Lutron Electronics along with Powerfull Systems, want to upgrade your home with the latest luxury smart home technology.  Powerfull Systems can walk you through the process of integrating the new cutting edge system into your home—making day to day tasks, that much more intuitive and painless—not to mention, more enjoyable to interact with. Contact Powerfull Systems today to discuss how to bring your home into the next era of automation.