Choosing the Right Shading System for Your Home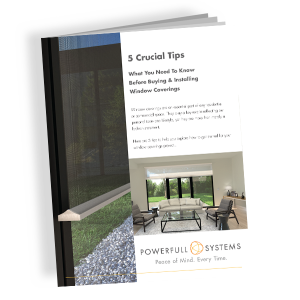 Introducing our latest Whitepaper —
"5 Crucial Tips: What You Need to Know Before Buying and Installing Window Coverings,"
available now for download. When considering Shading Systems/Window Coverings for your Smart Home or Commercial Space, there are a number of categories to choose from, and from there, a whole host of options. When faced with the wide variety of choices and options, it's easy to become overwhelmed — this is why we have settled the decision-making process down into 5 specific tips in our Whitepaper.
1. What are your Window Covering Goals?
Initial considerations include HVAC costs, privacy, light control and more.
2. What Type of Window Covering?
Whether your Shades are external or interior, choices are plentiful. We break down the various kinds and options available.
3. What Fabric? 
For interior shades, you have every possible fabric and color option available to match decor or serve specific needs, such as blackout shades.
4. Automated Shades Systems. 
We discuss automated shading systems, which can be controlled from your smart device from practically anywhere.
5. Selecting the Right Installer.
Once your choices have been made, it's time to consider a qualified installer who knows shading systems.
Download our Whitepaper on Shades from this link
, and review your options. Powerfull Systems, a Los Angeles based installer and integrator, will be pleased to assist you in your Shading project, residential or commercial.