Important Facts You Need To Know Before Buying a Home Control System
Modern technology is amazing and has allowed considerable growing sophistication in terms of home control and automation systems. Gone are the days where home control consisted mainly of light dimmers and switches. Today's Home Automation Systems can give you the capability to easily control your lights and shades.  Advanced integration to control audio and video is possible and incorporating your thermostats, security and surveillance system, pool temperature, and outdoor lights is most of the time a seamless operation as long as is performed by a well qualified professional. Yes, home control is great; however there are some questions you need to answer to identify important decision-making facts before buying or choosing a home control system.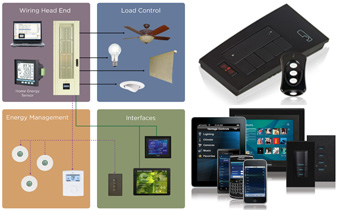 Q1 – How much control do you really need or want? Again, as mentioned above home control can be started with a single room or can be expanded into an advanced home brain capable to control nearly all your electric appliances, gizmos and gadgets. Therefore you need to be clear in regards of how much control you want to start with. Do you want in fact to control only a single room? If all you want is being able to dim your lights and lower the shades in your living room or nursery to watch a movie or feed your baby then an inexpensive dimmer and/or a battery operated motorized shade may be all you need. But if your goal is to control a few rooms or a whole house then you'll need a mini-system or a more robust setting depending of what you are trying to accomplish. Either way it will be beneficial if you define beforehand how much control you really need or want.
Q2 – Should you choose a wired system or a wireless option is best for you? Most home automation systems communicate with the control module either by sending wireless radio wave commands or by using the electrical and phone wires in your home. More sophisticated, reliable and elaborate systems require the use of Ethernet or proprietary cable and some of them can even use a hybrid communication system (wireless and wired) capable to control a whole house of 30,000 Sq. Ft. or more. So, which one should you choose, wired or wireless? Well, that will depend on your specific situation. Is your home being built from the ground up or are you building an addition? Then structured wiring should be your choice as this is the most reliable way for a control system to communicate. In the other hand if you are only remodeling or retrofitting an existing house or a room and don't want to pay for the extra expense and hassle of adding wires, then the wireless option is best for you. However If you live in an older house try to avoid the over-the-counter inexpensive wireless systems as these tend to fail in homes with thick plaster walls, instead try to obtain a brand name system that will perform better under these circumstances.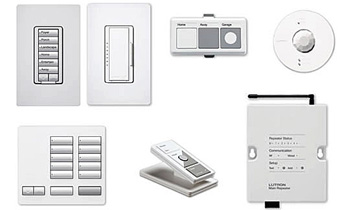 Q3 – Is system scalability and ease of use important to you? The first part of this question is directly related to the question above about how much control you want to start with.  If you are starting with a single room there are some inexpensive systems that can perform basic tasks very well but most of them don't offer any advanced features or expansion options. If scalability is important to you you'll want to select a system that allows you to perform more than just basic controls. You want a reliable system capable to manage complex video and audio commands as well as other data-intensive tasks and offer the option to expand in a room by room or zone by zone basis. Most basic systems use push-button remote controls that are easy to program and can be used by almost any member of your family, unfortunately some of these remote controls may interfere with other wireless devices in your house. More reliable control systems use in-wall keypads or proprietary custom remote controls that can be programmed by you, others even allow you to use your iPad or iPhone, and some systems will require professional programming by a qualified technician. Regrettably, sometimes the user interface of such systems might not be as intuitively as you wish, therefore, when choosing a system try to think of all the members in your family. Small children and elderly persons could not be as technical and savvy as you are and may not be able to operate the system properly on their own. If ease of use is important to you try to visualize your home system being operated by the household member with the least technical skills and then decide.
Q4 – What about system compatibility to integrate with other brands and devices? If system scalability was important for you then system compatibility should be too. Some systems are only compatible with components of the same brand. Others may be compatible with only a limited number of specific external devices. Yet, other systems use standardized and exchangeable protocols that allow them to communicate properly with almost every device made by other brands. When selecting your system, take into consideration all the different devices you want to control now and in the future, try to identify how compatible the system is (and will be) with your current devices and if it conforms with your specific plans and desires of technology control as well as aesthetics and colors.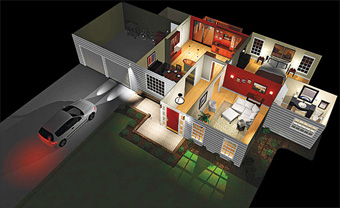 Q5 – How do you get started and how much can it cost? You want to get started by researching the different systems and identify those that meet your needs and criteria. Most  of them have websites that offer an overview, downloadable brochures and technical information papers. Once you made your choices try to read reviews and current user feedback to narrow your selections. You can also visit local dealer showrooms or request an in house demonstration, just make sure that the dealer you select has good reputation, excellent customer service and plenty of experience in the system you selected. You will need to know that advanced control systems are not sold or available in lighting stores or home improvement centers, they are only available from independent dealers. Top dealers usually receive industry awards on a yearly basis and maintain a high dealership status. System cost will depend entirely on your selections made above, how much control you want to start with, wired or wireless, initial components of scalable system and so forth. A couple of non-system light dimmers and a 3' x 5' battery operated cellular shade to control a single room can cost anywhere from $450 to $1,500 U.S. depending on the brand you select. The initial set up of an advanced wireless and scalable system can cost between $1,600 and $3,500 U.S. again, depending of the brand. Your best bet will be to request a free custom quote from an authorized dealer to find out how much your desired system will cost. As you can see home control systems are more than just technology, convenience and aesthetics. By analyzing these questions one by one, you'll know the facts and you'll have the tools to make a better informed decision in selecting the right home control system and the best integrator that meets your needs and your budget.