Shade Systems: What Type of Window Covering?
There are a wide variety of kinds of window coverings, starting with either interior or exterior. We outline the various kinds and options available, from rollers to shutters to draperies and more (for interior), and rollers, awnings or solar screens (for exterior). (Letter callouts correspond to the image below).
Interior Solutions
A. Roller Shades
Lutron roller shades create the perfect light for any space or activity with an offering of sheer, dim-out, and blackout fabrics. Choose a sheer to maintain view while diffusing UV rays that may damage furnishings. Dim-out fabrics provide privacy while blackout fabrics are 100% opaque to eliminate all daylight.
B. Horizontal Sheer Blinds
Beautiful fabric meets industry-leading technology in these window treatments, where the soft elegance of a sheer is paired with the precise control of a blind.
C. Drapery Systems Lutron drapery track systems electronically operate a variety of styles, including pinch pleat and ripplefold, in addition to the innovative Kirbé® Vertical Drapery System. Select a fabric from The Avant Collection™ for complete systems.
D. Pleated Shades The angular design of pleated shades adds a crisp, modern look to any space, and the wide array of colors and fabric options ensure a signature look.
E. Fashion Honeycomb Shades Fashion honeycomb shades add dimension to a space thanks to their cellular design, and their air pockets trap heat to provide superior insulation.
F. Roman Shades with CERUS® Safety Technology Roman shades lend an air of sophistication to any space while managing daylight. With over 100 fabrics and woven woods available in a variety of pleat styles, you are sure to find the perfect aesthetic match. CERUS (Cord-Eliminating Roman Uptake System) provides a safer, more reliable and better performing Roman shade.
G. Venetian Blinds with Independent Control of Lift and Tilt Venetian blinds are an attractive and effective way to ensure privacy while still allowing daylight to filter into a space. Independent Control of Lift and Tilt maintains uniform tilt and lift positions across blinds and combines smooth, quiet motion with independent control of lift and tilt. Lutron Venetian blinds feature presets to recall a predetermined position and tilt for the ultimate in performance and style.
H. Tensioned Shades Tensioned shades provide solutions for skylights, bottom-up, and angled windows. The innovative design keeps fabric panels taut and parallel to windows with minimal sag at a variety of slopes. Lutron tensioned shades reduce light gaps around fabric, and maximize the view when opened by eliminating cable guides that are typical in skylight shades. The frame may be surface mounted, inside mounted, or recessed while still allowing easy access to update the fabric.
I. Cable Guided Shades Cable guided shade systems can be used to achieve precise shading control in angled applications by keeping roller shades at the exact angle of the window. The system is also useful in areas of high velocity airflow to prevent unwanted shade motion.
Exterior Solutions
J. Rolling Shutters Rolling shutters provide piece of mind and and will enhance your lifestyle.
K. Retractable Awnings Enhance your outdoor living space with retractable awnings.
L. Solar Screens An exterior solar screen will provide shade from direct sunlight while allowing you to save on energy costs.
Once it has been decided what type of shade is needed, a decision will also have to be made for the mounting. A new trend both residentially and commercially is to build a pocket for the shades to disappear into. More traditional styles are available as well, such as a rod and finials. These are largely aesthetic choices, but these decisions need to be made early in the design process.
POWERFULL PRO TIP: Are you having a hard time deciding between blackout and sheer shades? Try a "double stack" of both. Sheer during the day so that you take advantage of daylight control without losing your outside view, and blackout shades for privacy, and sun control.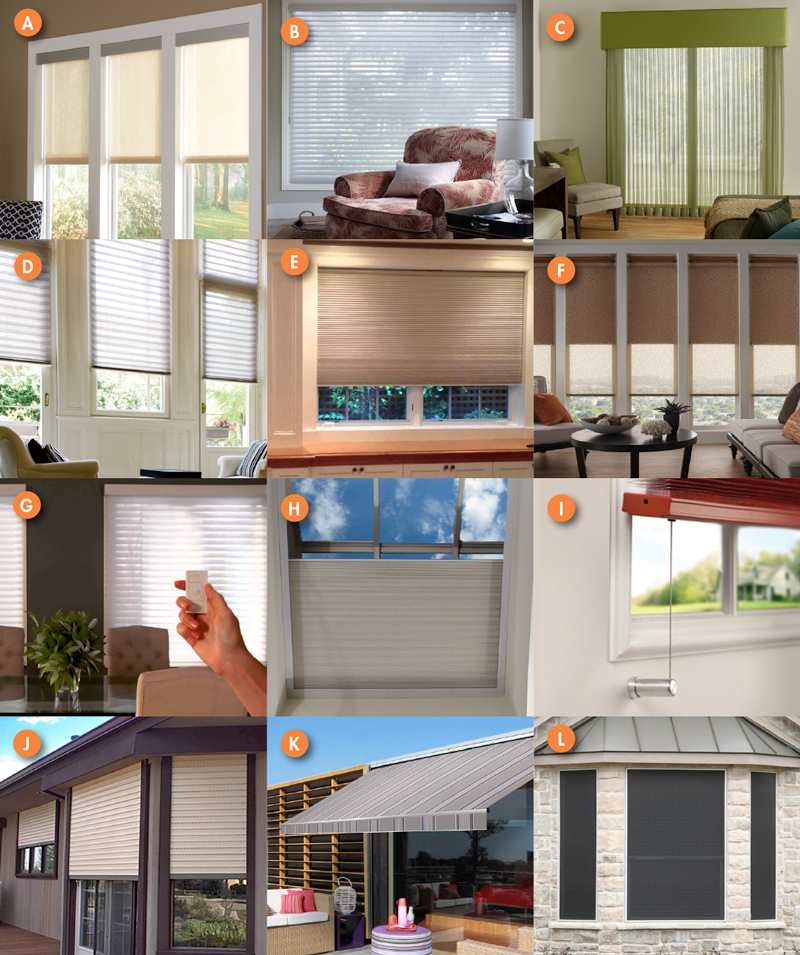 If you need assistance deciding what shading system is right for you and your project, please call us here at Powerfull Systems.
To download our Whitepaper "
5 Crucial Tips: What You Need to Know Before Buying & Installing Window Coverings
",
please click here.